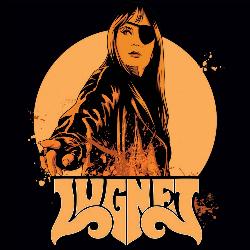 product: Lugnet - Lugnet
release date: 15.01.2016
release territory: Europe
formats: CD, vinyl & download
Lugnet is a Swedish band with the tough, gritty sounds of '70s hard rock that features well rounded musicians with touring and recording experience.
The guitar driven attack from Mackan and Bonden delivers crushing riffs and classic rock melodies, that rides on the steady and driving rhythm section of extraordinary bass player Z and drummer Jansson (ex. Witchcraft). The lead singer Roger (Ken Hensley) fronts Lugnet with a on-stage swagger, passion & voice reminiscent of the late Ray Gillen (Badlands).
Lugnet launched "All The Way" a strictly limited edition cd single (cover art by Vance Kelly) along with an exclusive grindhouse music video featuring Quentin Tarantino´s favorite Swedish actress Christina Lindberg (Thriller: They Call Her One Eye) in the lead role. The video was number one on the music video chart "musikvideotoppen.se".
They also launched an exclusive limited edition "All The Way" four-track vinyl Ep with cover art by Vance Kelly. The track was frequently played in national radio P3 Rock.
In autumn 2015 a new video will be released and again with Christina Lindberg in the lead role before the self-titled debut album will be released by German label Pride & Joy Music on January 15th, 2016 on CD and on vinyl a few weeks later with distribution via Edel. "Lugnet" was produced in various studios in Sweden by Lugnet, mixed by Lars Chriss (Lion's Share) and mastered by Micke Lind at Masterplant, Stockholm.
The band name Lugnet means tranquility (the calm) in Swedish and is also the name of the area where the band rehearses their music. But make no mistake this band is out to kill...
Line-up: Vocals: Roger Solander; ; Guitars: Marcus "Mackan" Holten and Danne "Bonden" Jansson; Bass: Lennart "Z" Zethzon; Drums: Fredrik Jansson; Special guest on Hammond Organ: Bruno Erminero
https://www.facebook.com/lugnetrock // lugnetrock.com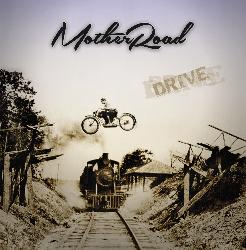 product: Mother Road - Drive
release date: 18.03.2016
release territory: GAS
format: vinyl
MOTHER ROAD is the brainchild of Austin, TX (USA) based rock singer Keith Slack and Berlin (Germany) based guitarist Chris Lyne.
Named after "The Mother Road", another name for the US' legendary, historic Route 66 highway, this international Hard Blues Rock band is impressively transferring the vintage sounds and the trademarks of this genre into the new decade. Founded in 2011 and based on mutual musical influences, Slack & Lyne promptly felt the chemistry between them was right and the song-writing process soon accelerated. In the meantime, the line-up was completed with drummer Zacky Tsoukas and bassist Frank Binke. For live concerts, the band normally adds an Hammond organ player.
Guitarist Chris Lyne is well known for his astonishing work with his previous group Soul Doctor. His main influences include some of the greatest British guitar players such as Gary Moore, Jimmy Page, Paul Kossoff and John Sykes. American singer Keith Slack acted as frontman of the bands Steelhouse Lane and Michael Schenker Group (MSG), and also his own blues-influenced Hard Rock band Mudpie. Slack's influences include a whole variety of styles and music from bands including Paul Rodgers, Led Zeppelin, The Black Crowes, King's X and The Cult.
www.facebook.com/themotherroad
www.motherroad-band.com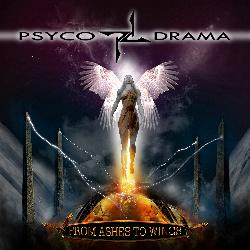 product: Psyco Drama - From Ashes To Wings
release date: 30.10.2015
release territory: world
format: CD & download

PSYCO DRAMA return withAshes to Wings, continuing the melodic power/progressive metal sound that brought them worldwide acclaim. Formed in Colorado Springs in 1990, PSYCO DRAMA established themselves as a musical force to be reckoned with on their debut album,The Illusion(1996). Its unique blend of hooks and melodies combined with epic and progressive passages resulted in compositions such as "Eyes Of A Child," "Flames," and "From Here," with favorable comparisons placing them in the same league as progressive metal giants DREAM THEATER, QUEENSRYCHE and FATES WARNING.
With Corey Brown (vocals) and Hercules Castro (guitar) being the main writing team behind PSYCO DRAMA, the band is considering Ashes to Wingsto be the rightful follow-up to "The Illusion." Joining Corey and Hercules on this musical rebirth is bassist Ian Ringler, a member of PSYCO DRAMA during their previous incarnation (as well as Corey's band mate in MAGNITUDE 9), and drummer Greg Sands.
Ashes to Wings' 11 tracks will deliver PSYCO DRAMA'S unique style of heavy metal to the world, with songs such as "From Ashes To Wings," "Requiem," and "All That We Have" firmly reestablishing the band at the forefront of the power/progressive metal genre.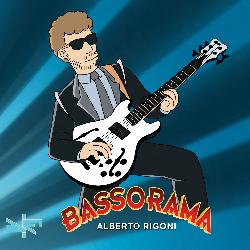 product: Alberto Rigoni - BASSORAMA
release date: 15.04.2016
release territory: world
formats: CD digi-pack and download
Alberto Rigoni is an Italian bass player and composer, internationally known for his career as a solo artist and as a member of the progressive rock band TwinSpirits, Lady & THE BASS and co-producer of the Vivaldi Metal Project.
His solo albums (Something Different, Rebirth, Three Wise Monkeys and Overloaded, worldwide released between 2008 and 2014), between progressive rock metal and fusion, also feature legendary musicians such as Kevin Moore (ex Dream Theater), Gavin Harrison (Porcupine Tree, King Crimson), Göran Edman (ex Yngwie Malmsteen), Michael Manring and many others.
Alberto has been featured on the cover of magazine such as Bass Magazine Japan, Bass Musician Magazine (Japan), Bajos Y Bajistas (Spain) and Basistas (Poland). Moreover, On March 2015 the prestigious Bass Guitar Magazine (UK) released Alberto's CD anthology called "Into THE BASS".
Alberto has also recorded for several international artists such as Italian pop singer Alexia and is now playing bass with Canadian rock singer and songwriter Kim Bingham (Nelly Furtado), The Italians and the Crystal Music Project, sharing stages with artists such as Alan Parsons, Jørn Lande, Paul Gilbert and others.
Rigoni is now releasing his fifth solo album BASSORAMA which will also feature Doug Wimbish, Divinity ROXX, Stu Hamm, Nik West, Steve Lawson, Anna Sentina, Lars Lehmann and Remco Hendrix.