product: Incertain - Rats In Palaces
release date: 22.09.2017
territory: world
format: CD
INCERTAIN was founded in October 2012 in Andernach, Rhineland-Palatinate, Germany. Being a very young band back then, they tried first on stage within their local scene. Only Luis Strietholt (drums) had went through several live experiences with his former Indie Rock project Celebrate Simon before. The five-headed Germans are musically influenced by Speed and Thrash metal legends like Overkill, Exodus or Testament, but also found inspiration in songs of the essential Death Metal representatives Vader, furthermore in modern acts like Lamb of God. These influences find evidence not only in INCERTAIN´s instrumental songwriting, but especially in singer Liane Walter's growling in traditional Death Metal manner. Being well related to one of the best known local live locations, Juz Live Club in Andernach, many chances to play at established festivals such as "A Chance for Metal Festival" & "Loud!Fest" occurred. In May 2016, INCERTAIN performed as co-headliner in front of a fulliflatched festival tent, comprising 1000 people at the "A Chance for Metal Festival". Furthermore they supported the German Thrash Metal heroes Tankard from Frankfurt at one show of their "Rest in Beer"- tour at Juz Live Club. The response on their live shows was constantly positive from crowds of all ages, and INCERTAIN soon went on stages in Cologne, Frankfurt, or also as part of the warm-up show of MISE Open Air and Taunus Metal Festival in Hessia.
The first INCERTAIN album "Rats In Palaces" was recorded by Michael "Freio" Haas (Sober Truth, The Gate, Sic Zobe, Erzfeind) at Big Easy Studio near Hennef, Germany from August 2016 to July 2017. Subsequently, the record was mastered by Aljoscha Sieg at Pitchback Studios (Eskimo Callboy, August Burns Red, Vitja, We Butter The Bread With Butter). Costin Chioreanu (Twilight Media), who designed artworks of Arch Enemy, Grave, Vader and Entombed, made the cover and booklet for "Rats in Palaces". For the upcoming music video and single release of the song "Amok", INCERTAIN worked with Pete Kunz, singer of the band Bloodspot from Limburg.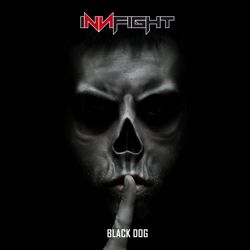 product: Innfight - Black Dog
release date: 13.04.2018
territory: world
formats: CD & digital
The story of INNFIGHT started at the end of the year 2013 in Mannheim, Germany with a line-up consisting of Sascha Wagner (guitar),
Michael Heck (keys) und Frank Widderson (vocals). About a year later and after writing songs together they began to record their debut CD "Boulevard Of Pain" in Rolf Munkes' Empire Studios in Bensheim (Hessia), Germany.
INNFIGHT later on were joined by the new members Udo Boppré (drums), Eugen Leonhardt (lead guitar) and Thomas Klesius (bass). After they were complete, they began to play live to bring INNFIGHT and the album into the focus of their fans.
In October 2017, INNFIGHT started to record their second album "Black Dog" which is now set for a release on Pride & Joy Music on April 13th, 2018. During the recordings, bass player Thomas Klesius died due to serious illness. Tommy Schmitt, bass player of RED CIRCUIT, stepped in to help in these hard times and completed the bass recordings.
Impulsive rhythms, loaded with energetic guitar riffs, combined with spherical keyboard melodies and the distinctive voice of
Frank Widderson are the major trademarks of the band's Alternative Rock/Metal sound – always with their own kind of interpretation. The songs themselves deal with emotions, experiences, impressions and topics such as human interaction and the daily struggle with the world both around and within us. "Black Dog" was once again produced by Rolf Munkes at Empire Studios.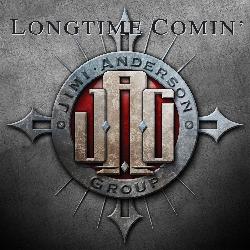 product: Jimi Anderson Group - Longtime Comin'
release date: 24.02.2017
territory: world (excluding Japan)
format: CD & download
Born in Rigside, Lanarkshire, Scotland. Jimis first Rock band was in 1978, singing mainly Rush & Deep Purple songs & so his passion for 'Classic Rock' had begun. The next few years brought many hours of practise & to Paul Rodgers, David Coverdale & Ronnie James Dio for inspiration.
He began writing songs and formed the rock band Sahara whilst spending any spare time attending a gazzillion gigs at the Legendary 'Glasgow Apollo' till it closed in 1985. Various incarnations of the band ensued including a name change to "The Hardline" until they were picked up by Wet Wet Wet's manager Elliott Davis and offered a management contract on the strength of a demo tape.
Showcasing his phenomenal voice, five years of recording demo's, touring, notable sell out gigs at Glasgow's King Tut's, London's 'Borderline Club' and a support to Wet Wet Wet in front of 30,000 people at Glasgow Green. Jimi continued writing, performing and recording, appearing on Michael Barrymore's shows ' My Kind of People' & 'Barrymore' in 1997/98 and went on to sing at concerts & festivals in Romania, Turkey and Holland. Living now in York, Jimi has continued writing.
The vocalist moved on to spend two years as lead vocalist with Tribute Band 'A Foreigners Journey ' he toured extensively in the UK and Rhodes. Meeting new friends along the way, and his voice just got better and better so a decision was made to leave "A Foreigners Journey" and the next adventure started. His latest project is a tribute to great American Melodic Rock with some great musicians and friends "Legends of AOR" debut gig was in Spain in front of a crowd of Rhodes Rockers, safe to say it was so emotional that tears were shed.
After recently recording an album of original songs at FML studios in Scotland with Sandy Jones and Greame Duffin he is now starting a new challenge to take his music on the road, and so the Jimi Anderson Group was born. The new album "Longtime Comin'" is fusion of Classic Melodic Rock and AOR, and the original tunes showcase Jimi's voice perfectly.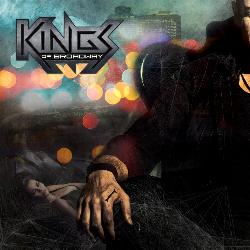 product: Kings Of Broadway - s/t
release date: 28.04.2017
territory: world
format: CD & download
KINGS OF BROADWAY were originally formed in 2011 when guitarist Aldo Lonobile (one of the most recognized guitar players/composers from the Italian metal scene, founder member of bands like Secret Sphere, Civilization One and Shadowspell) started gathering musicians and friends to fulfill his desire to create a Hard Rock band.
After a year of writing songs, making demos with his longtime friends Luca Cartasegna (ex-Secret Sphere) on drums, Ricky Messeri on guitar and JJ Andreone (Odd Dimension, A Perfect Day) on bass, the showed the ability to create amazing rock songs for the masses, once sung by the right singer!
After trying out some different options, JJ suggested his long time friend Tiziano Spigno (that later became the singer of Lucky Bastardz); Tiziano has a unique vocal tone and an amazing ability in writing rock melodies that give its best melted with KINGS OF BROADWAY!

This was 2012 - and the band then really started! From 2012 to 2015 they worked in the shadows, composing the whole debut album and recording it in the best way possible, with the aim to deliver an outstanding sound able to play the game with the rock giants out in the market!
Among the great words received by the representatives of the musical industry, the band signed a record deal with German label Pride & Joy Music in early 2017. The group's self-titled debut album "Kings Of Broadway" is set for a release on April 28th, 2017!