product: Secret Rule - The Key To The World
release date: 10.11.2017
format: CD & download
territory: world
SECRET RULE was formed in the beginning of 2014 with the intention to create a special sound with powerful rhythms and catchy melodies. The band is fronted by the powerful voice of Angela Di Vincenzo (Kyla Moyl), masterminded by lead guitarist Andy Menario (Martiria) who has worked with big names such as Vinny Appice (Black Sabbath, Dio), Jeff Pilson (Dokken, Foreigner), and Carlos Cavazo (Quiet Riot). The line-up is completed by bassist Michele Raspanti (Graal) and drummer Nicola Corrente (Enemynside, Stick it out, Starkiller Sound).
In February 2015, the group released their debut "Transposed Emotions' (Rocksector Records) - a concept, a mixture of facts and tales which analyse our society with a look at a post apocalyptic era. The album was recorded in 2014; produced, mixed and mastered at Antfam Studios in Denmark by Tue Madsen (Halford The Haunted, Mnemic, Hatesphere, Ektomorf), while the artwork was created by Simona Speedy Saccoccia. After some gigs in Italy, the band went on tour in Switzerland, France, Germany, Belgium, Holland and the UK, taking part in some festivals such as the SOS Fest in the UK and the WIZZ FEST in Belgium.
In October 2015, SECRET RULE started recording their second album "Machination". The line-up for the new long player also included Sander Zoer (ex Delain, Leah) on drums, Henrik Klingenberg (Sonata Arctica) on keyboards and other special guests such as Stefan Helleblad (Within Temptation), Timo Somers (Delain), Fabio D'Amore (Serenity) and Janneke De Rooy (Paper Doll Decay). This release again was produced, mixed and mastered by Tue Madsen (Antfarm Studio) and the artwork created by Simona Speedy Saccoccia.
The CD got a release on June 24th, 2016 on Scarlet Records with two tours to follow in July and August covering Slovenia, Slovakia, Croatia, Hungary, Czech Republic, the UK, Belgium, Netherlands and Germany. On 7 October in Wetzicon at the Hall of Fame venue, the Italians supported Serenity and on 29 January, they opened for Delain.
Early in 2017 SECRET RULE supported Blaze Bayley for some gigs and then started to work on new material. The new album "The Key to the World" will be released by Pride & Joy Music on November 10th, 2017. Henrik Klingenberg (Sonata Arctica) and two new guests on this new CD, Henning Basse (Firewind and MaYan) and Ailyn Giménez (ex Sirenia), also appear on this third release of the band. It again was mixed and mastered by Tue Madsen (Antfarm Studio- Denmark); Fabio D'amore (Serenity) handled the pre-production and Simona Speedy Saccoccia took care of the artwork again. In addition, music videos for the tracks "Twin Flames", "The Song Of The Universe" & "Imaginary World" feat. all three guests will be released in advance to the album release. The band has already scheduled some gigs for next months. In November, they will be direct support for Kobra and the Lotus.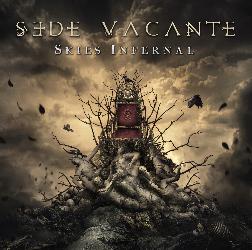 product: Sede Vacante - Skies Infernal
release date: 18.11.2016
format: CD & download
release territory: world
Sede Vacante is a heavy Goth Metal duo from Greece formed in 2013 which consists of Michael Tiko (male vocals, guitars and synths) and Constantine Alex (female vocals). Both members are highly educated in music - with Michael Tiko having studied at Berklee College of Music, Boston, USA (Master in Guitar Performance) and Constantine Alex having studied in The National Academy of Music "Prof. Pantcho Vladigerov", Sofia, Bulgaria.
Both members have got an extensive live experience. Tiko was the lead guitarist of the Goth/Power metal band "Rage of Romance" (feat. Vicky Psarakis on vocals, The Agonist) and also played as a session guitarist in many local bands, even in the Jazz genre. Alex has been singing for more than 10 years and been a session vocalist in numerous swing, jazz and rock bands.
"Skies Infernal" is their debut album which will be released on Pride & Joy Music on November 18th, 2016. The logo and the band's symbol were made by Gustavo Sazes (Arch Enemy, Firewind etc.), and the record was mixed by drummer and sound engineer Fotis Benardo (ex- Septic Flesh, Six4Nine) and mastered by the Jens Bogren (Fascination Street Studios) in Örebro, Sweden.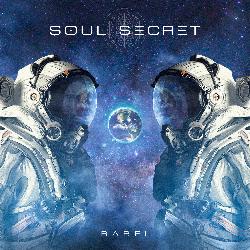 product: Soul Secret - Babel
release date: 28.07.2017
territory: world
format: CD & download
Soul Secret are an Italian progressive metal band based in Naples.
After a long time playing together, they hit the market in 2008 with their debut album "Flowing Portraits", published by ProgRock Records and with Mark Basile (DGM) as guest singer on the whole album. This album was highly praised by the critics and let them play on stage together with bands like Pendragon, Vanden Plas and Subsignal. After three years the band published "Closer To Daylight" under Galileo Records, a heavier album featuring Marco Sfogli (James LaBrie Band) on "River's Edge" and Arno Menses on the acclaimed 16+ minutes suite "Aftermath". After playing together again with Subsignal and Vanden Plas, the band decided to change the singer and to start working on a new album. While writing it, they played together with Haken and Neal Morse Band. Their third release, called "4", was their first concept album and released on April 10th 2015 (October 4th in USA) by GoldenCore Records and distributed by Zyx Music.
Their new album, titled "BABEL", will be released by Pride & Joy Music on July 28th 2017 and will be previewed at Night Of The Prog, opening Mike Portnoy's show. BABEL is a concept album, covering topics like religion and love and ranging from classic progressive rock to more modern progressive metal, with influences from djent, electronic and latin music. The artwork was completely designed by Thomas Ewerhard and the mix handled by Alex Argento (Virgil Donati, Marco Sfogli).
Sam and Adriel are sent in space to find God, helped by logOS, an on-board computer providing cutting-edge technology to the mission. When they finally find the City Of Gods, they find it empty...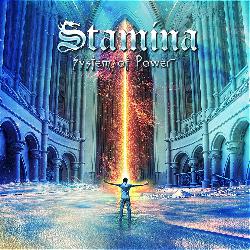 product: Stamina - System Of Power
release date: 24.02.2017
territory: world
format: CD & download
Italian melodic/progressive metal band STAMINA is the brainchild of guitarist, songwriter and producer Luca Sellitto. Since the beginning, the band's aim has been to create a personal style of music, combining a wide range of influences ranging from melodic power metal to progressive rock, to hard-rock and fusion.
During the years the band has released three full-length albums feat. many guest musicians including Henrik Brockmann (ex Royal Hunt, Evil Masquerade), Kenny Lubcke (ex Narita, André Andersen, backing vocalist of Royal Hunt), Göran Edman (ex Yngwie Malmsteen, John Norum, Brazen Abbot, etc.) and Nils Molin (Dynazty).
In April/May 2012, STAMINA embarked on their first European Tour, including shows in Germany, Austria, Holland, Spain and north of Italy. During the second leg of the tour the band had the opportunity to open for Danish rock quintet Royal Hunt in honor of their 20th anniversary world tour.
Today, STAMINA consists of Alessandro Granato - vocals, Luca Sellitto - guitars, Andrea Barone - Keyboards and Mario "Uryo" Urciuoli - bass plus the additional musicians, Andrea Stipa - drums; Jacopo DiDomenico - backing vocals; Donata Greco - flute; Giulia Silveri - cello. Band leader Luca Sellitto says: "Our new studio effort, 'System of Power' is the most mature release from us up until now, displaying a slightly more aggressive approach, an even increased level of technical proficiency and a wider sonic spectrum than ever before."
STAMINA's fourth album "System Of Power", will be released on German label Pride & Joy Music on February 24th, 2017 and is tailor made for fans of Melodic Prog Metal in general, in the vein of early Symphony X, Yngwie Malmsteen's Rising Force, Dream Theater, Royal Hunt, Angra and many more.